How It Works
Step 1
Choose a subscription plan or purchase a one-time gift box that works best for you. We offer monthly, 3, 6, 9, and 12 month plans starting at $43.99/month with no contract. Cancel anytime.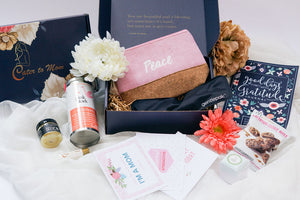 Step 2
This is where the magic happens! Cater to Mom will hand select 5 -7 full-sized postpartum care essentials to support your postpartum journey.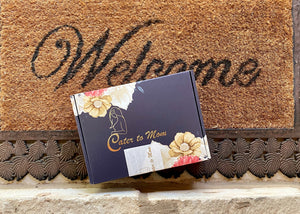 Step 3
Be prepared to be catered to. Your first box will ship 3 to 5 business days and subsequent boxes will ship between the 18-20th each month. Month to month subscriptions renew on the 30th of each month. One-time items purchased from our shop will ship within 3 -5 business days after processing. 
*No contracts. No commitments. Pause or cancel anytime.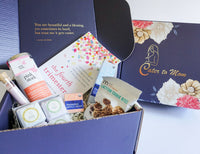 What's Inside
Cater to Mom is a monthly postpartum care gift box featuring 5 - 7 organic, cruelty-free full size products. The box includes postpartum recovery essentials, aromatherapy, health & wellness supplements, skincare, books, healthy snacks (with allergy sensitive, gluten-free, and vegan options per request), teas, & other postpartum - inspired products carefully curated for new and seasoned moms.

Each monthly box is themed with a focus on different challenges moms face during the postpartum period, recovery, breastfeeding, relieving stress, postpartum depression, postpartum sleep and insomnia, returning to work, relationships with partners, and so much more. There are so many gifts for the baby but this box is just for mom.
Get Started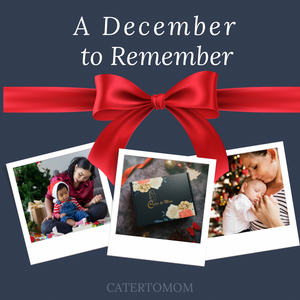 Gift Mom Something That's Just For Her
It's so exciting to celebrate the new baby but celebrate mom too. When mom is taken care of the whole family benefits.
Testimonials
Nothing can prepare you for motherhood. It's the most amazing roller coaster ride. I loved receiving my Cater to Mom box in the mail, it felt personal to me. The tea, hot compress and words of affirmation were my favorite! Thank you Marsha for being so considerate and thoughtful. It definitely sparked joy and brightened my chaotic day.
Mama of 2 under 2

Michelle E.
A must have for new moms! These were really well done boxes. Highly usable (consumable) and interesting post-partum items. Each box was filled with very different items. Snacks, essential oils and even a cookbook to name a few. Packaging was elegant, creating a feeling of being pampered! A wonderful gift for a new mom. Please send to any one you know who's had a baby. It'll be a gift she'll never forget!

Lisa S.
So excited to have received my Cater to Mom delivery. Being a new mother is a roller coaster of emotions and experiences. It's so comforting to connect with fellow mothers who understand exactly what you're going through and with sweet packages to help you get through it all.

Gabriella G.
A beautiful way to tell a Mommy that she is still loved and not alone. The products are focused on the Mom's needs for after birth, and each box is packaged by hand and the owner herself.
I love that personal touch.

Maria S.